Ormonde Offshore Wind Farm (2010)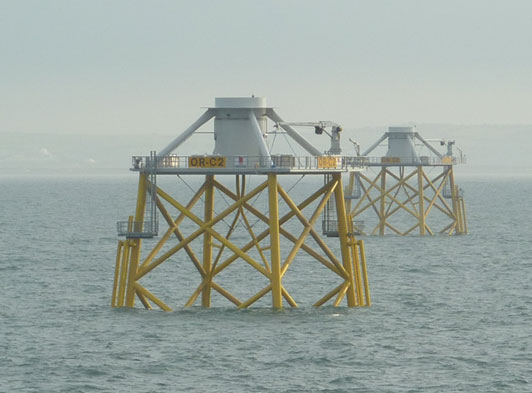 The award-winning Ormonde Offshore Wind Farm is located 10km off Barrow-In-Furness in the Irish Sea. The wind farm comprises 30 RePower 5MW wind turbines producing a capacity of 150MW, and one substation. This is sufficient to supply the equivalent of approximately 100,000 homes per year with clean power. The turbines cover an area of 8.7km².
The wind farm uses jacket foundations similar to those used for many oil and gas platforms. Ormonde was the first large-scale commercial wind farm in European waters to use jackets for the turbine foundations as well as the substation foundations.
The 31 four-legged OWEC Quattropod® foundations were secured to the seabed by four main legs which were inserted into pre-driven piles. The connection between the leg and the pre-driven piles was made by injecting a cement grout into the annulus around each pile and stab-in-leg.
Each leg had a primary and secondary grout line. The top-side grout connectors were located on the jacket transition deck, with the lines running down the inside of the legs.
Ormonde was the first multiple jacket grouting project for FoundOcean, clearly demonstrating the flexible, scalable nature of the company's operations.
THE ENGINEER'S PERSPECTIVE

"It's exciting to be part of this milestone project for FoundOcean and the offshore wind sector. Ormonde is the largest multiple jacket grouting project to date in European waters and for FoundOcean, and it clearly demonstrates the scalable nature of our operations.

"Poor weather halted installation and therefore grouting operations a few times but this crucial phase was complete within the timeframe and before the winter weather really started to affect the project. Working off a dedicated grouting vessel from the installation vessel meant that we could be grouting the jackets that had been placed whilst more were being loaded. We grouted 123 of the 124 annuli in accordance with FoundOcean's offshore grouting procedures. One annulus was completed using standard contingency procedures."


CLIENT'S PERSPECTIVE

Annelie Doedens, Project Engineer at Scaldis praised FoundOcean's work, "The grouting operations went very well and because of FoundOcean's vast offshore experience any problems they came up against were dealt with swiftly, effectively and professionally."