West of Duddon Sands (2013)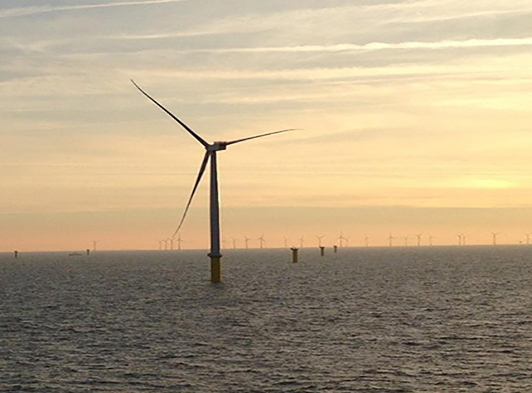 In 2013, FoundOcean completed grouting operations for the 108-monopile foundations for ScottishPowerRenewables and DONG Energy's 389MW West of Duddon Sands offshore wind farm. The project took just 5 months to complete, averaging 21 foundation installations per month. Once fully operational, the wind farm will produce enough energy to power over 300,000 UK households.
Each 3.6MW turbine is housed on a monopile with fixed grout lines fabricated on the transition piece. Flexible hoses then extended to the turbine deck to allow FoundOcean to connect grout hoses via a flexible boom arm from the vessel. Over 4,770 tonnes of Masterflow® 9500 Exagrout was pumped into the monopile transition piece connections using the FoundOcean Super Pan Mixer which is proven to double current grout output rates when compared with other high strength grout mixers on the market.
The high mixing and delivery system helped set a record for the fastest foundation installation: a total of 8.8 hours including the monopile installation, levelling of the Transition Piece, and its grouting. Because of the early strength development of Masterflow® 9500 Exagrout, the permitted weather window, which is necessary for the installation operation, was reduced by 25% to 18 hours, thereby significantly contributing to the overall project efficiency.