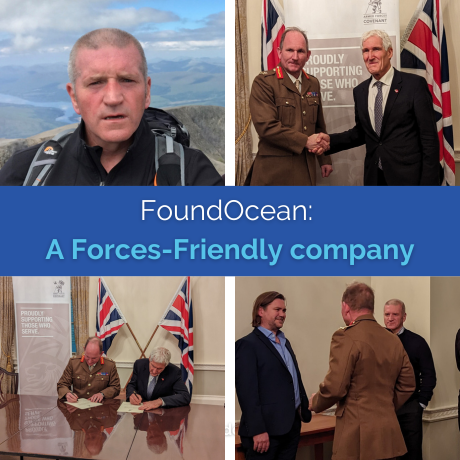 FoundOcean: a Forces-Friendly Company
Iain Mackinnon MBE, FoundOcean's Plant Manager, talks about how he came to work at FoundOcean and how it was already a very 'forces friendly' company when he left the British Army and joined our ranks 10 years ago.
FoundOcean, as part of the Venterra Group, signed the Armed Forces Covenant at the Ministry of Defence in London in December last year. Jim Bell, our MD, and Rob Jewkes, CEO of Venterra Group, attended the ceremony along with others including Iain, representing the 8 ex-military colleagues currently working at FoundOcean.
The Covenant constitutes a promise to ensure that those who serve, or have served, in the Armed Forces, and their families, are treated fairly. Businesses, charitable and public sector organisations of all sizes who wish to support the armed forces community can sign the Covenant.
Iain, Glasgow-born and raised in Grangemouth, says he couldn't wait to join the army when he was 16, and fairly early in his career  he had the opportunity to go to the Royal School of Military Engineering, where he completed his HNC in Civil Engineering.
Almost 35 years later, having worked his way up to Regimental Quartermaster, with several tours under his belt, including Germany, Cyprus, Northern Ireland, Bosnia, Iraq and Afghanistan, it was time to enter civilian life and find a new line of work.
During his time in the Royal Engineers, one of his roles had been to go out and recce jobs, taking him to all corners of the globe, including Hong Kong, Nepal, Belize and Norway. A later role as Regimental Quartermaster meant he was responsible for ensuring that a unit of 650 soldiers was fully equipped and resourced for deployments worldwide. Iain had already decided that he wanted to stay in something to do with engineering, what he knew and felt comfortable doing, and not too far away from his home in Falkirk, where he lives with Wendy, his wife of 40 years.
Iain remembers that leaving the military was a little daunting, but also very exciting. He was looking forward to a new and different challenge. He also recalls how the army helped – everyone who leaves is sent on a re-settlement course of at least a week covering aspects like how to look for a job, how to write a CV.
"I'd put my name down with a couple of agencies," he recalls, "and one of them rang me – it couldn't have been more than a month since I'd come out of the army – and said there was a job that sounded suitable, did I want to go and have an interview?
I was 50 and it was my first ever proper interview! I came in to the FoundOcean HQ in Livingston, spoke to a couple of people, and got the job! And I haven't looked back since.
When I joined the company, there were already several ex-military personnel in the team. I think I would have settled in quickly anyway, everyone was very welcoming, but I can see that a younger veteran or someone who was a bit shy would have taken comfort in there being others here too, same humour, that sort of thing."
Iain's role puts him in charge of equipment, both in Livingston and worldwide. In the early days, this meant trips away several times a year, perhaps moving heavy silos from Malaysia to Europe, or travelling to sites in the Middle East, India, the USA. Now, with more regional managers in place, he's not off here, there and everywhere so much these days – his main role is managing the overview of all FoundOcean's equipment and where it is in the world.
"My role virtually doubled when I took on the stores in Livingston – but I'd had stores experience as quartermaster in the army, so it wasn't a huge leap. In many ways I can't really believe how seamless the transition was, from soldier to civilian. Being Quartermaster Technical in a Regiment to doing what I do now isn't all that different, it's just on a smaller scale."
"I know I enjoy my job because the time flies by. I get here at 7.30am and the day just goes – there is no clock-watching! And I am still enjoying it after 10 years. It's a great firm to work for and an excellent place to work.
There are 8 of us at the moment, ex-military, dotted around the company, 6 men and 2 women. I can see that the military frame of mind fits in very well here. And as for the guys offshore, working in an often challenging environment, that suits military folk too, as they are already well-versed in working in harsh and demanding environments.
It was great to go down to London with Jim and the others – signing the Armed Forces Covenant definitely shows the outside world what those of us here knew anyway, that ours is most definitely a forces-friendly company.
I can't ever imagine retiring – sitting around doesn't appeal to me in the least."