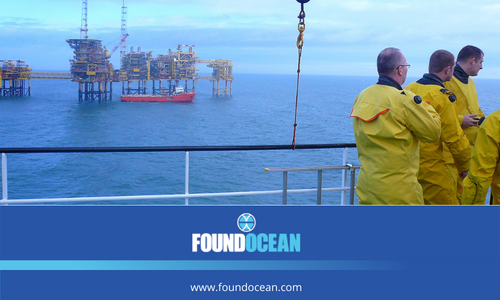 Fabric Formworks & Subsea Cement
Our Technical Director, Martin Hardy, talks about the diverse range of projects FoundOcean is able to undertake by designing, making and installing fabric formworks.
The origins of fabric formworks and subsea cement
A formwork is a civil engineering term for a structure made from wood, plastic, steel or fabric, which serves as a mould that wet cement or concrete is poured into to harden. They play an important part in some of the work that we do. Fabric formworks have been in use since the 1960s and are primarily used underwater to support oil pipes, gas pipes and (more recently) electricity cables. As a company FoundOcean can trace its origins to 1966, so our history of expertise in the field spans back to the very early days.
Originally, fabric formworks were made out of cotton canvas bags made in Scotland. These days we make them in India from polypropylene. The bags are lowered into position under the water and then the grout – which we custom-make for each project – is piped into them as a slurry, and the water is pushed out. The ability to filter water out effectively is a huge consideration in terms of the type of fabric material that can be used. Stability is also tremendously important, which is where our expertise and knowledge of formwork design really comes into its own. We design a structure that will provide the necessary shape and support to the grout as it sets.
How and where are they used?
There is an enormous variety of uses in offshore engineering projects for fabric formworks and subsea cement. Here are 10 examples of the ways we use them at FoundOcean:
They provide support to infield subsea cabling used in the oil& gas sector, and export power cabling in the wind energy sector. This means that the cables are kept stable and maintained at a consistent height; levels of elevation can also be increased and decreased as the project requires.
Fabric grout bags support pipelines that connect offshore O&G structures. When laying the pipe, grout bags can accommodate the varying topography of the seabed and will provide even support for the pipelines.
In places where currents are high, scour can occur, meaning that large holes and areas of erosion are worn into the seabed. To reduce the effect of scour and ensure the safety of marine structures built in these areas, tailor-made grout bags can be designed to fit the seabed and fill the gaps in an uneven surface.
Some structures require ballast to maintain stability. Fabric formworks filled with a heavy grouting mix can be used to hold a weight in place and help structures stay balanced.
Pipeline End Manifold (PLEM) is where two pipelines underwater connect together. These connecting points need to be supported, which is where fabric formworks filled with cement come in. They bear the weight of the PLEM and ensure a stable foundation where the ground is soft or uneven.
We have a significant amount of experience in installing triangular-section fabric formworks to support J-Tubes. A pyramid-shaped grout bag can be used to support a power cable or cables as they exit a J-Tube at bottom of the foundation. Our expertise enables us to install these correctly to prevent damage, breakage, or the scour becoming more exposed.
Our fabric formworks are also used for custom projects. A notable example was in the salvage operation for the Costa Concordia, a cruise liner that capsized off the coast of Italy. FoundOcean designed, manufactured and grouted 1,200 fabric formworks which were topped with grout mattresses and provided a stable surface to enable the vessel to be rolled upright and floated away.
What will change about their use in the future?
Over the course of our long history of working with fabric formworks, the projects that we work on have shifted significantly. Where, early in our company history, we worked mainly on projects in oil and gas infrastructure, now the majority of our work is in renewables. We have largely swapped oil and gas pipelines for electricity cables. This shift has been further marked by our joining the Venterra Group. As part of this group, our goal is "helping the world's energy transition through wind power". As such, grouting for offshore wind projects is fast becoming the largest part of our business.
Protecting the environment is important to us as a company, and FoundOcean is endeavouring to incorporate a green approach into many parts of the business. When fabric formworks reach the end of their life and are removed from site, the grout can be broken up and recycled into aggregate. Looking ahead, we are also in the process of developing more environmentally-friendly materials for our fabric formworks and are looking into using natural fibres. It would be interesting if everything came full circle and the fabric formworks were to be made from cotton, as they were back in the 1960s!
For more information on FoundOcean's experience and capabilities, contact the team on +44 1506 440330 or email info@foundocean.com.   We also have a useful catalogue available to download.