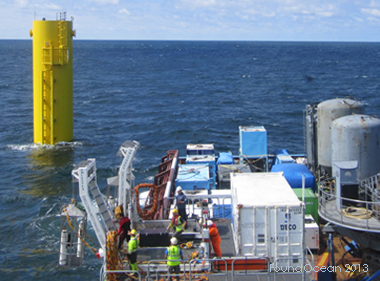 News - FoundOcean announces end-of-year figures for 2012
FoundOcean, the world's largest dedicated offshore construction grouting company, has announced its 2012 year-end results which saw turnover hitting £17.9 million, up 51% on the previous year.
It was recently shortlisted for the Growth Strategy of the Year category of the Scottish Business Awards.
FoundOcean's Managing Director, Jim Bell sheds light on how the company has recorded successful growth, despite the tough times the construction industry has faced: "This is a fantastic achievement and one which the whole company should be proud of. We invested heavily last year not only in our technology, development, and research but also in our personnel - this certainly has impacted on our year-on-year growth."
In March 2012, the Scottish Minister for Energy, Enterprise and Tourism, Fergus Ewing officially opened FoundOcean's expanded offshore service base in Livingston, Scotland. FoundOcean has more than doubled the number of its staff, employing its100th person in 2012; this figure has risen to 129 as of the end of March 2013.
The expansion of the Livingston Offshore Service Base has improved the company's capacity to manage multiple offshore projects simultaneously; it also means the company is able to recruit staff from the Scottish Central Belt's wealth of talented engineers, mechanics, welders, offshore personnel, and other skilled craftsmen. FoundOcean now employs 54 dedicated offshore personnel, including 8 project engineers, as well as 9 office-based engineers and project managers to support the offshore team.
"We're in the midst of a busy and exciting period. Our clients demand safe, swift and successful grouting operations, and rightly so. The company's success relies on the dedication, skill, and long-term commitment of our personnel, and we're always on the lookout for talented people to join our team," said Bell.
The company's experience and skills gained in the oil & gas sector together with its successful entry into the offshore wind market meant that FoundOcean's revenues have nearly doubled in the last two years. In June 2012, based on FoundOcean's exceptional order book, strong market position, and growth opportunities in both existing and new markets, Ambienta SGR, Europe's largest private equity fund focused on the environmental sector, acquired a 35% stake in the company.
Jim Bell goes on to say: "The investment enabled FoundOcean to continue with its forecasted growth strategy of expanding its high profile presence in the offshore renewables sector by building additional grout mixing equipment, and employing and training more engineers and operational personnel." 
FoundOcean also opened a new sales office in Bremen to improve its focus on the wind market in Germany.
Over the last three years, FoundOcean has invested £5.3 million in new plant including its unique Recirculating Jet Mixers (RJM), Pan Mixers, and cement silos. This investment allows FoundOcean to keep up the pace of its expected business growth, as well as support the UK economy.
"The majority of our new equipment, including heavy fabrication and specialist components, is sourced within the UK thanks to its advanced home-grown industrial base," summarised Bell.
You can meet FoundOcean's directors at Offshore Technology Conference in Houston from 6-9 May in the Scottish Pavilion on Stand 2063/5.