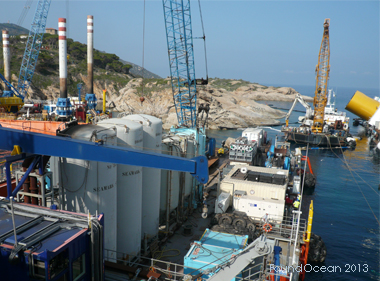 News - FoundOcean awarded contract to help raise the Costa Concordia
Scottish-based FoundOcean has been working at the Costa Concordia wreck removal site since October 2012, having been awarded the scope of work to design, manufacture, and grout two and a half thousand fabric formworks, which will support the ship's hull during the up-righting phase of the salvage operation. FoundOcean will also carry out the foundation grouting of six subsea support platforms, which are critical in the parbuckling (or rolling) of the Costa Concordia from its current beached position.

FoundOcean is a globally recognised subsea grouting specialist, with nearly 50 years' experience in the oil & gas and offshore wind sectors. It is one-third owned by Ambienta SGR, the environmental-sector-focused Italian private equity house.

Michael Stockwell, Commercial Manager for Titan-Micoperi, the Italian-American consortium working on the Costa Concordia recovery, remarked, "We approached FoundOcean having worked with them on previous offshore projects. They offer experience and reliability, and we believe their expertise will be invaluable on a project as sensitive as this."


FoundOcean has designed and manufactured the speciality formworks which are being placed and grouted in situ, much like standard pipeline freespan correction grout bags. Once the formwork embankment has been completed, grout mattresses will be installed on top of them, and filled in the same way. The grout mattresses will provide a flat, stable platform for the ship's hull to rest on once it has been rolled upright. 

An estimated 14,000 tonnes of cement sourced from Italian cement manufacturer Italcementi will be used to fill the formworks and mattresses, with an additional 900 tonnes for the platform pile-grouting phase.

In order to meet the environmental requirements of the salvage project, the seabed must be returned to its original condition. FoundOcean's grout bags, each of which will weigh up to 70 tonnes, are designed to be lifted back out of the sea when the salvage operation is complete. They will then be taken ashore for processing and recycling.

"FoundOcean is honoured to be able to apply its subsea grouting experience to this important and sensitive project," explained Rolando Polli, Board Director at FoundOcean.