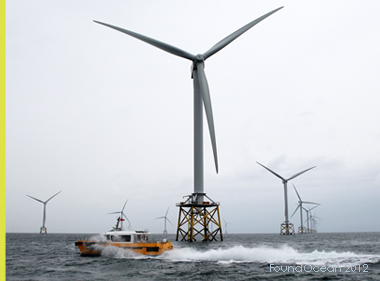 FoundOcean wins RenewableUK Energy Award
FoundOcean is delighted to announce it has won the Large Project Award at the inaugural RenewableUK Energy Awards 2012. Together with Offshore Design Engineering Ltd, REpower and Vattenfall, the companies were recognised for their exceptional achievement in constructing the Ormonde Offshore Wind Farm project. RenewableUK is the body representing the wind and renewables industries.

"We are extremely proud to receive this award," says Andy Venn, Business Development and Marketing Director at FoundOcean. "At the time of installation, Ormonde was not only the largest multiple jacket project in the world; it was also the largest project for us in terms of the number of structures to be grouted  under one single project."

To execute a project successfully the unexpected must always be expected and it was FoundOcean's 45 years' experience of subsea and offshore foundation grouting which could accommodate this, minimizing delays and enabling the rapid grouting of the structures.

Maria McCaffery, Chief Executive of RenewableUK, is quoted as saying: "We created these Awards to recognise and celebrate excellence in the wind and marine energy industries. The extraordinarily high calibre of the winners, and indeed of all those nominated, shows there is a great deal to celebrate...The RenewableUK Energy Awards pay tribute to these inspiring examples of tenacity and success."

RenewableUK announced the winners of its inaugural Energy Awards at the Intercontinental Park Lane on 27th June.