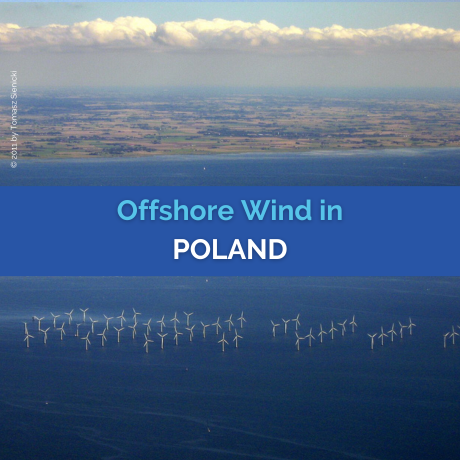 Offshore Wind in Poland
New Countries Joining the Offshore Wind Sector
The global energy sector is changing. Across the globe, a great number of countries are making commitments to increase the amount of renewable energy on their grids. This means that many countries are developing new energy infrastructure and installing their first offshore wind farms.
Vineyard Wind, off the East Coast of the USA, currently under construction, will be the first commercial offshore windfarm in North America and will produce enough energy to power 400,000 homes.
In Asia, Taiwan's nuclear-free homeland policy, introduced in 2016, has prompted an enormous boom in offshore wind, making the country a hub for wind activity in the region.
In Europe, offshore wind has obviously been around for a while, with the UK and Germany as market leaders, but a new big player is emerging in the offshore wind market: Poland.
The Polish Wind Energy Sector
Onshore, wind energy already plays a significant part in Poland's energy network. Since 2019, wind energy has been the second-largest source of energy, after fossil fuels. In 2022, Poland installed the largest number of turbines in the country's history, and, according to the Polish Wind Energy Association (PWEA) wind energy made up 10.8% of the country's total power.
In December 2020, the European Council introduced an EU objective to reduce net greenhouse gas emissions by at least 55% by 2030. As part of the EU, Poland is striving to meet these targets.
The following year they published their new energy policy, Energy Policy of Poland until 2040 (PEP2040), which creates key targets for introducing offshore wind to
Poland's waters – it outlines that the installed capacity should reach approx. 5.9GW in 2030 and up to 11GW in 2040. PWEA president Janusz Gajowiecki told Recharge Magazine he was hopeful that they could reach a capacity of 18GW or higher by 2040. Currently only Germany and Denmark have gigascale projects up and running in the Baltic Sea.
The Baltic Sea
Geographically, a key asset in Poland's introduction of offshore wind power is the Baltic Sea itself, which experiences high winds, particularly in the winter months. This location also enables countries in the region to work together to build their combined wind capacity.
Last year, Denmark, Estonia, Finland, Germany, Latvia, Lithuania, Poland and Sweden signed a declaration committing to collaborate to build more offshore wind farms in the Baltic Sea. According to WindEurope, the sea could host as much as 93 GW of offshore wind capacity by 2050.
Poland's ambitious offshore wind targets could see them becoming the largest offshore wind market in the Baltic Sea within that same timescale. According to analysis by WindEurope and PWEA, 28GW of the estimated offshore wind potential in this sea can be found in the area governed by the Polish state.
Current Offshore Wind Projects
According to 4C Offshore, Poland has 91 offshore wind projects planned, with none yet having entered the construction phase, and with 5 so far either consented or having applied for consent.
Poland's first offshore wind project, BC-Wind is currently in its development phase. Located 23km from the coast, north of the Krokowa and Choczewo municipalities, the site will be comprised of up to 31 turbines and will be capable of generating enough renewable energy to power over 720,000 homes and businesses. The wind farm is set to commence commercial operation in 2027.
Swiftly following this first is the Baltica Offshore Wind Farm, set to be the largest offshore wind project in the Polish part of Baltic Sea, and one of the largest wind farms in the world. The project is a joint venture between Ørsted and PGE Polska Grupa Energetyczna and is comprised of 2 sites, Baltica 2 and 3, around 25km from the coast. Baltica 2 will have a total installed capacity of 1.5GW and Baltica 3 1GW. Providing power to around 4 million homes, this addition to Poland's energy infrastructure is set to make an enormous difference to the country's green energy transition.
More and more countries around the globe are investing in their offshore wind infrastructure. With some enormous projects underway, and further tenders planned, Poland is set to be a big name in the offshore wind sector over the next few years.
For more information on FoundOcean's experience and capabilities, contact the team on +44 1506 440330 or email info@foundocean.com