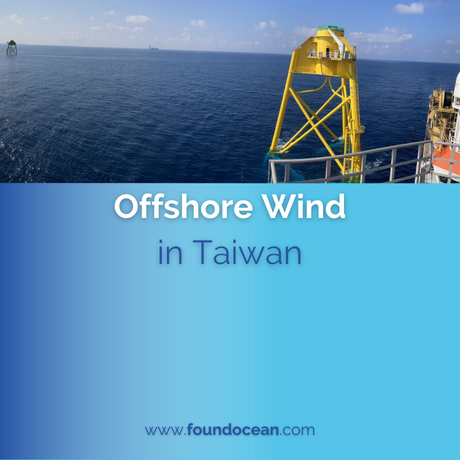 Offshore Wind in Taiwan
Our Managing Director, Jim Bell, talks about the exciting developments in Taiwan's offshore wind sector, as they develop as a leader in the Asia region.
Offshore Wind in Taiwan
Taiwan (officially named the Republic of China) was on the news a lot last summer due to the United States politician Nancy Pelosi's visit, and subsequent friction with the People's Republic of China. Political news aside, this island nation is certainly performing other newsworthy activities in the renewable energy sector.
Offshore wind has become an increasingly significant industry in Taiwan, so much so that the Global Wind Energy Council said in October: "Taiwan is positioned to be the largest offshore wind market in Asia (excluding Mainland China) in the coming year".
Taiwan is already a significant player in offshore wind and several major companies in the industry have their Asia headquarters there. The country is at the centre of the supply chain for the Asia-Pacific region, locally manufacturing various turbine components, and they house facilities for large international companies like Siemens Gamesa. They have ambitious and exciting plans for offshore wind energy generation.
The Energy Transition
In recent years, transitioning to renewable energy has been a major focus for Taiwan's government. In 2016, the government announced their plan to phase out nuclear power by 2025 under a nuclear-free homeland policy. They intend to do this by increasing their capacity for renewable energy. At the time, renewable energy made up just 5% of their total energy capacity, but the government have set a target of the island being powered by 20% renewable energy by that 2025 deadline. Being a sizeable island, Taiwan has a spacious sea area, and high wind speeds put it in an excellent geographic position to harness the wind's power and transition effectively to renewables.
The story so far
At the time of the 2016 legislation, only two 4MW turbines were installed off Taiwan's coasts but, in the years since, this capacity has ballooned.
Three projects were awarded contracts for the "Demonstration Round", the island's full foray into offshore wind: Formosa, Fuhai and TPC.
Formosa 1
The country's first offshore wind farm, Formosa 1, was built between 2016 and 2019 off the coast of Miaoli County in northwestern Taiwan and has an installation capacity of 128MW. The location of this wind farm is significant. The Formosa Strait's wind speeds average over 11 metres per second, more than twice the speeds experienced in neighbouring Hong Kong!
Formosa 2
Joining this is Formosa 2, located nearby, which – despite delays due to the Covid-19 pandemic – has recently begun providing energy to the Taiwanese grid. The project is currently still under construction, but it was reported in July 2022 that 12 turbines had been fully installed and were successfully transmitting power, followed by a further 8 'active' turbines in September. Once completed, the project will have an installed capacity of 376MW and supply energy to approximately 380,000 households.
Greater Changhua 1 & 2a
The largest offshore windfarm in Taiwan, Greater Changhua 1 & 2a, is similarly under construction and has also recently begun delivering power to the grid. FoundOcean has been involved in this project, grouting the pile foundations for its 111 turbines.  Located off the west coast of Changhua County, this pair of wind farms will have a total capacity of approximately 900MW and the project is expected to reach completion later this year.
What does the future hold?
The Bureau of Energy released 36 zones for potential development of commercial wind farms in 2015. In the wake of this, several offshore wind projects are either in their planning or construction phases.
Taiwan's rapid expansion of their offshore wind infrastructure positions the nation as frontrunners in the Asia-Pacific region. Whilst other countries, like China, Japan, South Korea and the Philippines, are all starting to develop offshore wind projects, Taiwan already has several years of expertise under their belt. This puts them at the centre of a very exciting period for the offshore wind sector in the region.
The Taiwanese government has published further targets to transition to a greener energy supply. They recently announced a goal to reduce CO2 emissions by 50% by 2050. To support this, the government will tender 15 GW through the Round 3 auctions for commissioning by 2035.
As the wind energy sector expands across the globe, FoundOcean increasingly looks forward to sharing our expertise in the booming Asian region.
For more information on FoundOcean's experience and capabilities, contact the team on +44 1506 440330 or email info@foundocean.com