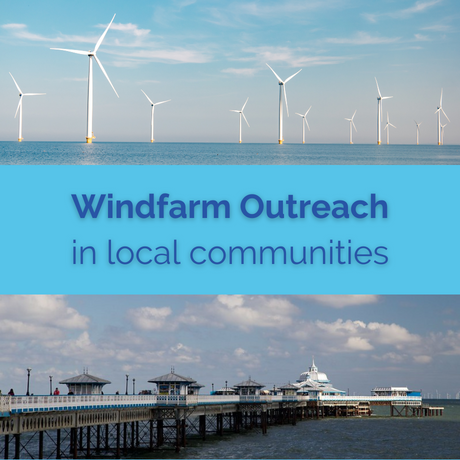 Windfarm Outreach in Local Communities
Our Managing Director, Jim Bell, talks about the community outreach programmes run by several of the big names in the offshore wind sector.
The renewable energy sector is making a difference to millions of people's lives across the globe. By changing the way that we produce energy and supporting the green energy transition, companies working in the sector have made – and continue to make – environmental and economic changes to our lives. 
Wind farm developers have to think on a large scale, about the hundreds of thousands of homes to which they will provide renewable energy. These providers also make a difference on a more local scale too. Several developers offer a range of outreach programmes in their local communities, often near the sites of the wind farms. Some wind farms are installed in or near rural areas, with small, tight-knit communities, so it is important to work with communities to address their needs.
These initiatives include:
Working with local charities, schools and universities to support education and resources in STEM
Working with local green initiatives to improve recycling and conservation resources in their areas
Creating and maintaining community gardens
These initiatives can make a really big difference to local communities, with a range of support and initiatives available. There are some great examples across the UK alone and, as the offshore wind sector grows, more areas globally will inevitably benefit from further outreach projects.
Vattenfall
Each year, Vattenfall invests more than £2.5 million into local communities that are hosting wind farm projects. This year, their team attended the Royal Norfolk Show for the first time. Their stall had interactive activities for children of all ages, with colouring in, a virtual reality headset and a working model turbine made as part of their STEM day at East Coast College.
In Aberdeenshire, in connection with the Aberdeen Offshore Wind Farm, they have created their 'Unlock our Future' Fund. This supports projects in the area which contribute towards a climate smart future. A recent example of a project that benefited from this fund is a community shed in Aboyne, which has now been able to install solar panels.
[photo credit - Aboyne Community Shed]
Ørsted
Ørsted have several links to educational organisations. They work with Durham University to provide research opportunities to postgraduate students. Over the last 7 years, Masters and PHD students enrolled at the Durham Energy Institute have worked collaboratively with rsted on projects and research that will have a positive impact on the renewable energy industry.
They also provide Community Benefit Funds for several wind farms located off the east and west coasts of the UK. These fund community activities and services, community buildings and facilities, nature and public open space projects, sports, recreation and play, and Skills Fund projects. In 2022, they helped improve and maintain the Green Heart Den in Barrow-in-Furness, a community green space in the town's centre.
[photo credit - Green Heart Den Facebook page]
RWE
RWE is another company with some great community initiatives linked to their offshore wind farm projects. Sophia Wind Farm, located at Dogger Bank, has prompted some fantastic education opportunities in the local area. RWE has worked with local schools, in connection with Tees Valley Education, to create a series of offshore wind teaching resources that are available online for teachers. A local schoolchild, Billy, even played a starring role as narrator of 3 engaging videos made as part of the project. You can watch those videos here.
In North Wales, the Gwynt y Môr Fund is also making a difference to its local community. Over its expected 25-year lifetime, it will invest over £19 million into projects in the area. One such project is the improvement of the Victorian pier at Llandudno, now allowing cruise liners to, once again, dock in the town and so improving tourism for the local area.
[photo credit - Tom Parnell]
Scottish Power
ScottishPower are involved in several events across the country about the importance of STEM subjects,. They have a long-standing connection to the Glasgow Science centre, designing activities for children to take part in at the site. As part of this partnership, they were involved in Electric Detectives, science-based workshops for primary schools. Elsewhere in the UK, they also delivered ALLaboutSTEM workshops to primary schools in Liverpool.
[photo credit - Florian Fuchs]
In Fife, Scottish Power were involved in the restoration of Cowdenbeath Wetland and the creation of freshwater at Swan Pond, Cowdenbeath. Stabilising the soil has made the wetlands sustainable and enables it to provide a habitat for a wide variety of wildlife.
These projects make such a fantastic difference to their local communities. Education opportunities, in particular, are a fantastic way for children to see the fun side of the renewable energy sector, and potentially even find a career pathway for their future selves!
Footnote: Although this article focuses on projects in the UK, we would like to give another company, Micoperi, a mention. FoundOcean were called upon to assist Micoperi with the righting and floating of the Costa Concordia cruise liner after it ran aground on the island of Giglio, off the coast of Italy. As well as the seabed remediation (which is still ongoing today), Micorperi has continued to support the island, specifically through assistance for public works to renovate churches and squares, and by financing a plan to improve tourism in the area and promote the sustainable development of the island.
For more information on FoundOcean's experience and capabilities, contact the team on +44 1506 440330 or email info@foundocean.com