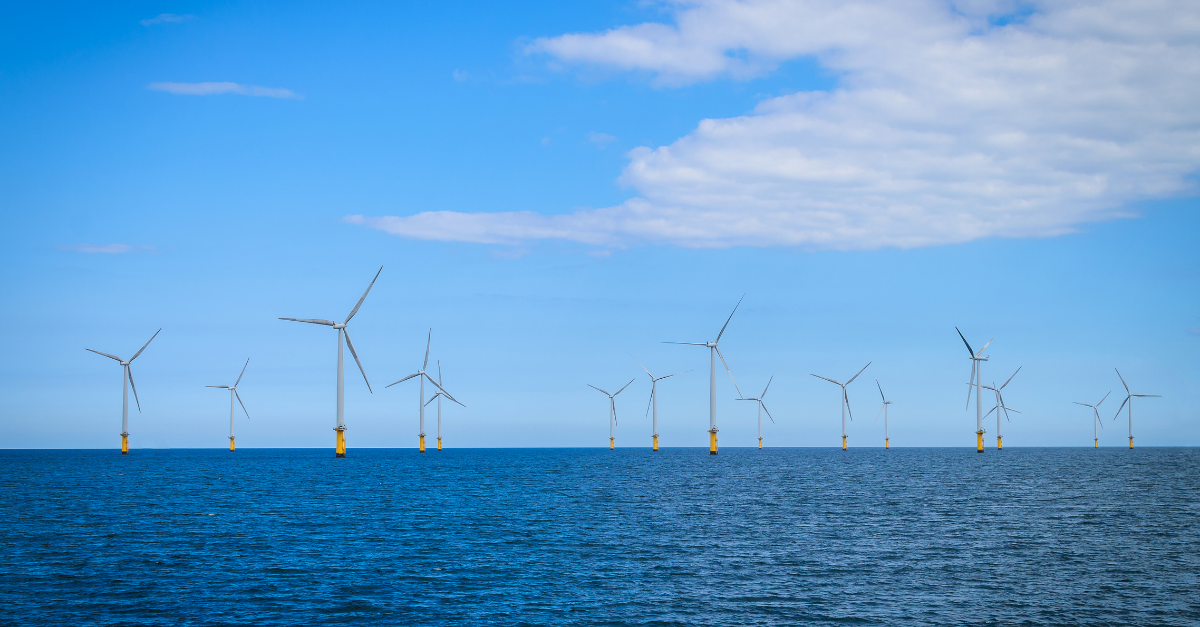 Wind Around the World
Wind Around the World
Our Managing Director, Jim Bell, talks about the growing offshore wind energy infrastructure around the world.
The offshore wind energy market is developing all the time and at an incredible pace. In recent years, there has been a significant global shift away from oil and gas towards renewable energy. Wind is a fantastic natural energy resource and the increased capacity to harness it will definitely contribute to a greener future for the planet.
The UK has set a target of Net Zero emissions by 2050 and several other countries have made similar commitments. India, for example, have made a pledge to reach Net Zero by 2070. These pledges are driving the growth in renewables worldwide and offshore wind infrastructure is a key example.
Europe
European countries have been pioneers and market leaders in wind energy, and a significant number of wind farms, both on and offshore span the continent. According to Wind Europe (in their 'Realistic Expectations Scenario', Europe is projected to reach 318GW of installed capacity of wind energy by the end of 2025.
FoundOcean's base is in the UK, the world leaders in offshore wind. It is great to be involved in projects on our home turf as well as those further afield, such as Beatrice, currently Scotland's largest operational offshore wind farm, powering up to 450,000 homes, and East Anglia ONE, off the coast of Suffolk, the largest wind farm (so far) in Iberdrola's history and powering over 630,000 homes.
The UK is currently home to the world's biggest offshore wind farm, Hornsea, located off the coast of Grimsby. It is made up of Hornsea 1, which has 174 turbines, and Hornsea 2, which has 165. Ørsted have said that both sites together are capable of powering 2.3 million homes. This, however, will soon be surpassed by Dogger Bank, a project due to be completed in 2026, located off the North East coast of England. It will have a capacity of 3.6 GW and the capacity to power 6 million homes. Offshore wind capabilities are becoming very impressive.
Other European leaders in the wind energy sector include Germany and Spain. With a combination of onshore and offshore wind farms, Germany has the largest wind fleet in Europe – its total capacity is likely to have grown to 75GW by the end of 2025. In Spain, the wind association AEE has said that wind was the main source of electricity generation in 2021. At its peak, on 29 December 2021, wind power covered up to 83.6% of peninsular demand.
Asia
Wind energy infrastructure in Asia is not as long-established as in Europe, but is growing at a rapid pace. The Global Wind Energy Council has suggested that the Asia Pacific region has taken the lead in global wind power development. In 2019, 50.7% of all new installations took place in this region.
Taiwan is home to a lot of expertise in the wind energy sector and has a significant offshore wind capacity. The Taiwanese Government has set targets to reduce greenhouse gas emissions by 50% and increase the amount of renewable energy in its power supply by 20% by 2025. Large companies in the wind sector like Siemens Gamesa and MHI Vestas have, or are planning to have, their Asian headquarters in Taiwan.
Much of the growth in Asia is in offshore wind. China's east coast is seeing a rapid expansion in the number wind farms being built and they are investing significantly in renewables. South Korea's "New Green Deal" aims to make the country one of the world's top five offshore wind energy producers by 2030. On top of this, Japan is taking advantage of its long coastline to increase massively its offshore wind capacity. The country is planning to increase its capacity to 30-40GW by 2040. There are certainly some very promising developments happening in offshore wind in several Asian countries.
Australia
Australia has a significant renewable energy sector, mainly in onshore wind and solar energy, with great potential to expand their offshore wind capacity over the coming years. In 2020, over a quarter of the country's energy generation came from renewable sources and 35.9% of their renewable energy was wind generated.
The state of South Australia is the leading area for renewable energy in the country. Data analyst Geoff Eldridge reported a period of 156 hours in late 2021 where the state's share of renewables averaged over 100% of demand. This is impressive and shows the great potential of renewable energy in the global transition away from fossil fuels.
The Americas
The Americas are seeing significant growth in renewable energy infrastructure. In South America, the dominant renewable energy source is currently hydroelectric energy, but the geography of the region gives it plenty of potential for other sources of renewable energy to grow – and to grow substantially. Brazil is the leader for wind energy in the region, with a predicted 69% of Latin America's total installed wind capacity planned by 2025.
In the United States, wind energy is a hot topic under the Biden Administration. At time of writing, there is just one offshore wind farm in full operation in the US, the 30MW Block Island Wind Farm, off the coast of Rhode Island, which came into operation in 2016. However, things are looking promising and in 2021 the Vineyard Wind 1 project was approved. This will be a wind farm off the coast of Massachusetts, making the Northeast a hub for offshore wind in the country. This wind farm will have a capacity of 800MW and will be a significant milestone in reaching the USA's target of reaching 30GW in offshore wind capacity by 2030.
According to a report on 4C Offshore, there are 167 offshore wind farm projects in the USA, although none of these are yet in the build phase, and only 19 have so far been granted consent or have applied for consent. So the United States will definitely be a place to watch with interest as these plans progress.
The Future
With so many exciting projects happening globally, now is a really exciting time to be involved in the renewable energy sector. At FoundOcean, we feel privileged that our expertise and our 50+ years of experience in subsea grouting enable us to work on wind farm builds that take us all over the world.
For more information on FoundOcean's experience and capabilities, contact the team on +44 1506 440330 or email info@foundocean.com.