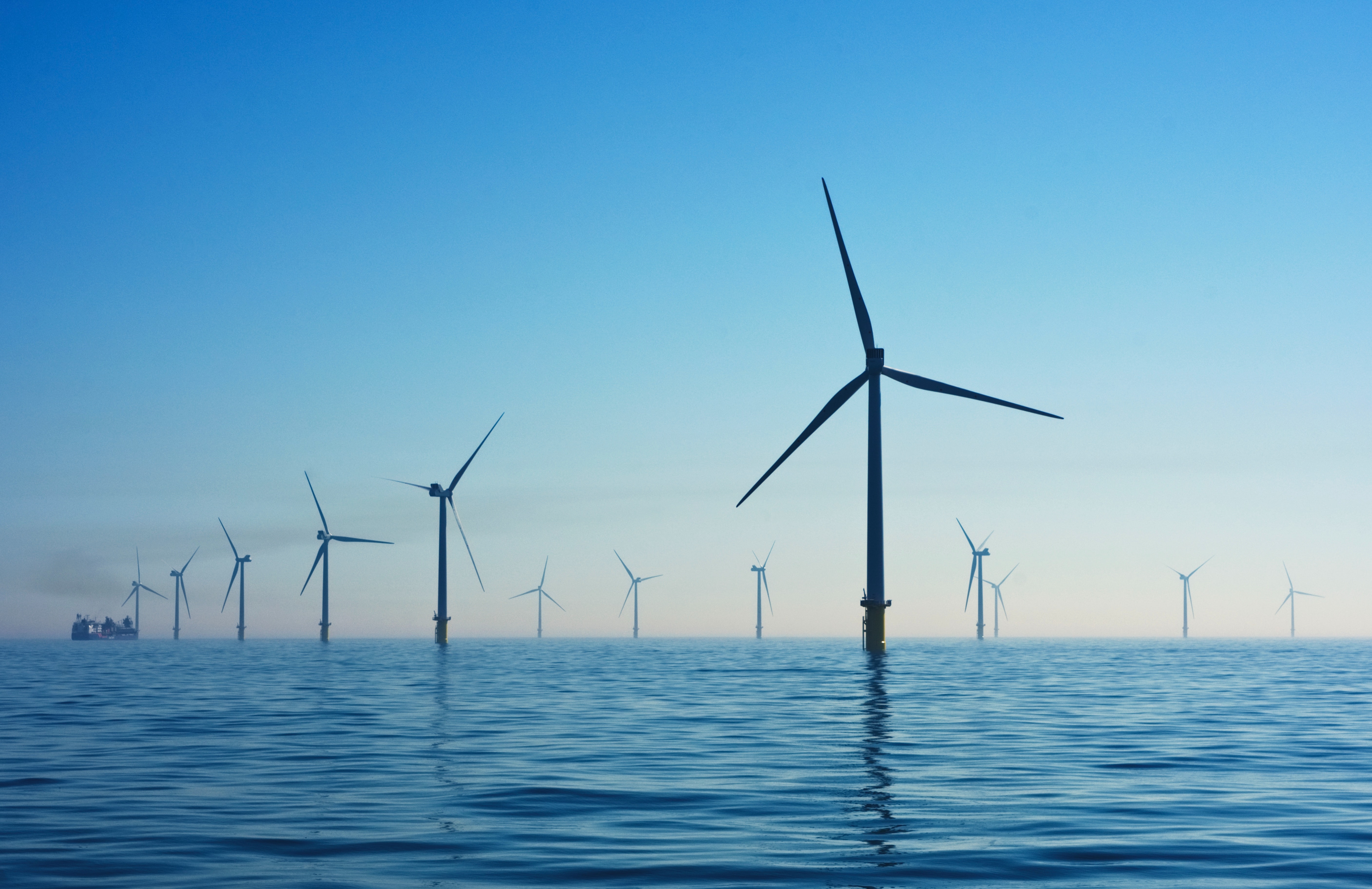 The UK's Offshore Windfarm Boom
Our Managing Director, Jim Bell, talks about the boom in the installation of offshore windfarms, particularly in the UK, and a recent windfarm installation project involving FoundOcean.
COP26
With all the pledges and renewed commitments of COP 26 ringing in our ears, world leaders have set even more ambitious targets to combat climate change. Renewable energy and the transition away from fossil fuels certainly held centre stage.
By 2030 renewables are expected to provide 90% of the growth in global energy demand, with global offshore wind capacity set to increase from 33GW in 2020 to around 250GW in 2030 – a huge leap. *Source: venterra-group.com
The International Energy Agency's latest World Energy Outlook considers various scenarios:
In the worst-case scenario, if governments worldwide continue with their current stated policies, wind generation would still be set to increase at least five-fold between 2020-2050.
In the best-case scenario, if governments worldwide aim for net zero by 2050, wind generation would increase fifteen-fold!
*Source: IEA World Energy Outlook 2021. Table A.18: Wind Generation
The UK Government Strategy
The Prime Minister, Boris Johnson, earlier this year announced a plan to build enough wind turbines to power every home in the UK cleanly by 2030, prompting a huge boom in the renewable energy sector.
This impressive target would require the equivalent of one turbine to be installed every weekday for the whole of the next decade. The government's target for offshore wind power capacity is being raised from 30 to 40 gigawatts, also by 2030, a significant increase.
Windfarm installation has been a growing industry worldwide for several years, and global levels are set to double over the course of this year, compared to 2020. According to the Global Wind Energy Council (GWEC), the world's offshore windfarm capacity is forecast to have grown by more than 12GW over 2021. This growth is due to huge investments in renewable energy infrastructure, particularly in China and the UK, and progress in the industry is being seen all over the world.
In the UK, a report by the Offshore Wind Industry Council (OWIC) predicts that the number of people working (directly and indirectly) in jobs connected to this sector will rise from 26,000 today to almost 70,000 over the next five years. This is a huge growth industry and FoundOcean is delighted to play their part in it.   
Beatrice Offshore Windfarm
Beatrice Offshore Windfarm is one of the largest windfarms in the UK, located in the Moray Firth in the North Sea. It is Scotland's largest offshore windfarm, made up of 84 turbines and covering 131 km2 – around twice the size of Loch Lomond. It has a capacity of up to 588MW, which is enough to supply power to over 450,000 homes. This one windfarm is making a substantial contribution towards the UK's intention to achieve their target of net zero emissions by 2050.
The installation project was completed in 2019 and was a joint venture between Scottish and Southern Energy (SSE), Copenhagen Infrastructure, and Red Rock Power Limited. The main contractor in the installation of Beatrice was Seaway 7 (formerly known as Seaway Heavy Lifting and now the Renewables Business Unit of Subsea 7), and FoundOcean worked closely with them in order to deliver a successful project.
FoundOcean and Beatrice
FoundOcean had both offshore and onshore responsibilities during this project.
Offshore, we worked closely with Seaway 7, who were responsible for installing the four-legged jacket foundations for the wind turbines and transformer modules. This work took place at depths of up to 56m. Following the required preparatory work at each foundation location, we pumped grout into the annulus between the piles and the jacket lower legs via grout lines running through the jacket legs.
Many projects we are involved in reach both great heights and depths and this one was no exception. The jackets used in the construction of the Beatrice Wind Farm were up to 81m high. They were so tall that the National Grid power lines that run over the River Tyne had to be raised temporarily to allow their passage underneath from the Smulders fabrication facility in Newcastle.
The project required a high-strength grout, capable of being mixed on a Super Recirculating Jet Mixer (SRJM), that could be stored and transported offshore in silos. This significantly reduced mixing time and was the first time a high-strength material had been stored and transferred via silo storage on this scale.
Efficient working is a really valuable skill for teams who work offshore. FoundOcean sees efficiency as a core value and a real asset to our working practice, and it was immensely helpful in this project. The team's understanding of the material and their experience kept the installation on schedule, grouting three jackets every 24 hours. We worked throughout the winter months, even in the harsh cold conditions of the North Sea. This process was enhanced by an optimised maintenance schedule, which ensured equipment was always ready for operations.
FoundOcean also played a significant role in making sure onshore logistics were well managed throughout the installation of the Beatrice Wind Farm. We appointed a quayside coordinator, which enabled all the stakeholders to have a single point of contact. This made for clear and efficient communication and allowed for smooth transitions between all project areas.
We also had dedicated onshore storage in a dockside tank farm in Rotterdam. Grouting material was shipped from manufacturing facilities in Germany and stored here before being loaded onto the resupply vessel. This meant that the resupply turnaround time was extremely quick and also ensured transparent batch tracking direct from the yards. There is a great YouTube video about the project which will really give you an idea of its scope and scale: https://www.youtube.com/watch?v=gxr3pq3KUIk
FoundOcean is reliable, experienced and forward-thinking. Our adaptability to new projects and our expertise in offshore working mean that we are an excellent partner for all subsea grouting requirements. FoundOcean's expertise in working many metres both below and above sea level continues to reach new heights as we work on various windfarm installation projects.
For more information on FoundOcean's experience and capabilities, contact the team on +44 1506 440330 or email info@foundocean.com.