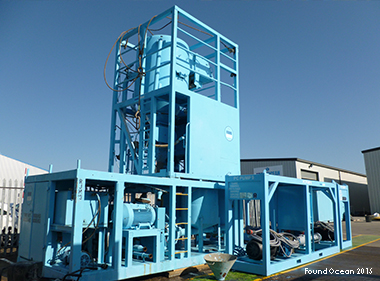 FoundOcean - completes grouting for Ayatsil-A jacket
FoundOcean has completed the grouting for an 8-legged jacket in the Bay of Campeche, Mexico. The project, completed on behalf of McDermott, mobilised from Port Fourchon, Louisiana and is one of a number of successful projects completed by FoundOcean in the region.
With offices and equipment located in both the US and Mexico, FoundOcean is ideally placed to support its clients in the region. "FoundOcean were consistent in demonstrating their technical expertise, going the extra mile to ensure the project ran without delay," comments Joaquin Vazquez, Project Manager for McDermott. This included a visit to the fabrication yard in Tampico to conduct an inspection of the jacket's grout lines in order to identify any issues that could cause costly delays to the offshore installation schedule.
"FoundOcean consistently strives to provide innovative solutions to specific client requirements, drawing on its extensive experience of providing competent solutions to challenging installation projects for the energy construction industry," comments FoundOcean's Managing Director Jim Bell.
In the case of Ayatsil-A, FoundOcean were able to provide a bespoke grouting solution, providing a customised high strength grout able to withstand the hot climate, whilst still being able to be mixed using the FoundOcean Recirculating Jet Mixer, in order to facilitate efficient, timely completion of the grouting operations.