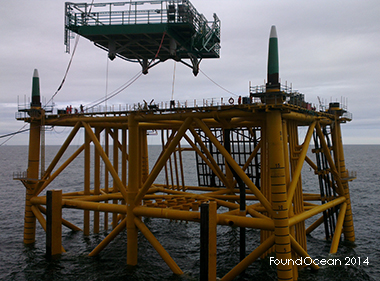 FoundOcean - presented with 'Top Sub-Contractor' award by Saipem
FoundOcean was awarded 'Top Sub-Contractor' status for the North Sea Edvard Greig development, following completion of the foundation grouting for the 134m jacket structure in May 2014. 
Saipem Project Manager David Fleet praised FoundOcean for their proficiency. "We wanted to recognise the thorough preparation undertaken by FoundOcean, including establishing contingency plans and the flow chart for operations. FoundOcean demonstrated great professionalism and their attitude was superb; the bar has been set very high!"
Each subcontractor on board the S7000 was graded in areas such as efficiency, health and safety, and quality of work, with FoundOcean being awarded the highest combined score. 
"Health, safety and quality are of the utmost importance to us as we strive to continually set the standard for offshore operations," confirmed FoundOcean Operations Director, Paul Burns. "We are delighted to have been recognised by Sapiem in this way and look forward to continuing our long and successful relationship with them."