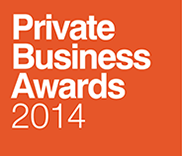 FoundOcean - shortlisted for Private Business of the Year 2014
Following several rounds of shortlisting, FoundOcean has been chosen as one of just six finalists for the 2014 Private Business of the Year Award, with the winner to be announced on 10th September.
According to event organisers Ford Sinclair, the number of entries was overwhelming, with over 1000 nominations. Gavin Crawford, partner specialising in private businesses at main Awards sponsor PwC, congratulates FoundOcean on becoming part of the small group of finalists, "an incredibly difficult task given the high quality of applicants".
Entrants were judged on a broad range of criteria, including strategy, staff engagement, corporate social responsibility and product growth.
"It is a real privilege to be shortlisted for such a prestigious award, which recognises the performance of the whole company, comparing us not just to industry peers but to the wider business community," FoundOcean's chairman, Keith Miller, comments.