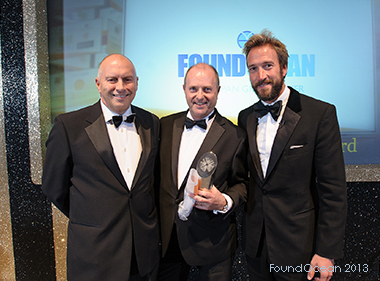 FoundOcean - wins Energy Institute technology award for its new Super Pan Mixer
Engineers at FoundOcean have received an award for their industry-leading Super Pan Mixer at this year's Energy Institute Awards. The award recognises the year's best new technological development.

Damien Murphy, Engineering Director of FoundOcean explains its significance: "Our Super Pan Mixer enables us to double current grouting rates when securing monopile transition pieces for offshore wind farms, thereby reducing the time and cost involved during the foundation installation phase by minimising our activities within the critical path of the vessel."

Jim Bell, Managing Director at FoundOcean comments: "Being acknowledged by your peers, against a very strong shortlist, is gratifying and it is particularly encouraging that so much 'unseen' hard work has been given this accolade." He continues, "I'd like to thank the talented team in Livingston who conceived, designed, and built this game-changing grout mixer. The super pan mixer is FoundOcean's contribution to the industrialisation of offshore wind farm construction and the industry's goal of driving down installation costs."

The Super Pan Mixer has already contributed to setting a record for the fastest installed turbine monopile to date.