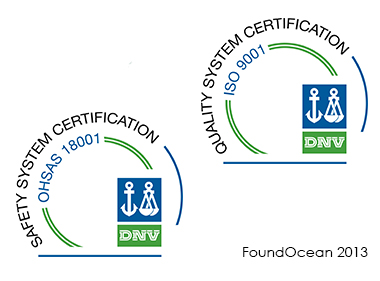 FoundOcean - awarded joint DNV accreditations
FoundOcean has been awarded two significant accreditations from independent auditing body DNV.

Jim Bell, Managing Director for FoundOcean said, "The ISO 9001 certificate that we have held since 2006 demonstrates that our quality management system complies with industry best practices. The OHSAS 18001 certificate reassures clients that we have the appropriate occupational health and safety policies and procedures in place for the safety critical environment that we and our clients operate in.

Certificates issued by a third party certification body such as DNV lets customers know they can trust that you have implemented the necessary internal processes to meet the rigorous requirements of the industry".

FoundOcean prides itself on maintaining stringent Quality, Health and Safety, and Environmental procedures. All of its policies are reviewed annually to monitor effectiveness and to ensure the process of continual improvement is maintained.