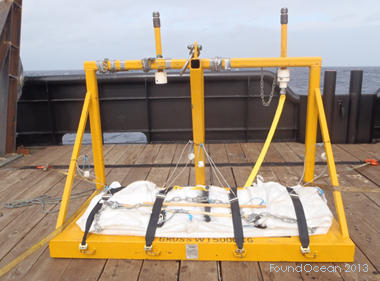 News - FoundOcean competes Gulf of Mexico Deep-Water Pipeline Repair
FoundOcean has completed the installation and grouting for a clamp repair to an 18" pipeline in the Gulf of Mexico. Saipem America awarded FoundOcean the contract to repair the damage caused by a vessel's anchor being dragged along the seabed over the pipeline in bad weather, at a water depth of 750 meters.

The seabed was dredged around the damaged area of the pipeline. An ROV manoeuvred the two steel half-shells of the clamp into position and pre-tightened the bolts. FoundOcean then connected the hose to the inlet valve on the clamp and delivered the grout using its reliable and cost-effective deepwater grouting umbilical system. Due to the extra load, a fabric formwork was installed under the clamp to provide more support.

In total 28 tonnes of cement was used: four tonnes for the clamp and 24 tonnes for the fabric formwork.

John Hudson, Client Services Director for FoundOcean recalls, "FoundOcean has proven experience of repairing pipelines all over the world. In 2007 we undertook a similar project in the North Sea where getting the Central Area Transmission System (CATS) pipeline back up and running was critical to the UK's gas supply."