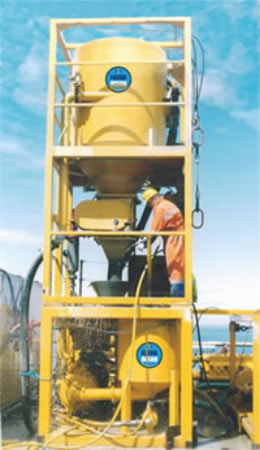 FoundOcean news - New grout mixer RJM17
Following the long tradition of in-house development and fabrication FoundOcean has started production of a new Recirculating Jet Mixer (RJM). This has been designated RJM17 and is based on our highly successful RJM16.
The new mixer will be the center piece of an all new grout spread which will include electric high pressure grout pumps,  laboratory unit and workshop. In common with RJM16 the new mixer is designed to fit inside standard 20' ISO containers for simple low cost mobilisation anywhere in the world.
About FoundOcean
FoundOcean is a subsea and offshore grouting specialist for the global energy construction industries. Its primary business is fixing structures to the sea bed by foundation grouting. FoundOcean also provides structural repair services for subsea and offshore structures, as well as pipeline and cable support and protection services.
FoundOcean, now a privately held company, was founded in 1966 and is headquartered in the UK. Its specialist subsea and offshore engineering equipment is located for rapid deployment in key energy producing areas of the world including Europe, the Gulf of Mexico, South East Asia and the Middle East.
For further information please contact:
Sue Beard, Fluency PR
+44 (0) 7768 990 296
pr@foundocean.com