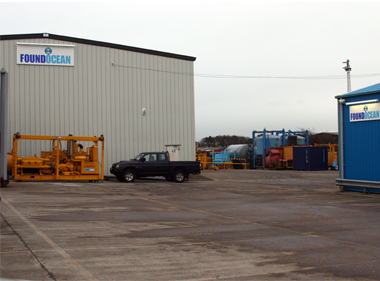 FoundOcean news - Further expansion for FoundOcean
FoundOcean, the world leader in structural and pipeline grouting services for the subsea industries, is expanding its service base at Telford Square Industrial Park, in Livingston, Scotland.
With the addition of a new 500 square metre building, FoundOcean now occupies the majority of the business park.  The extra space is needed to build new cementing equipment and to house a new materials testing laboratory, with more space for research and development into new grout formulations.  Plant stores will be moved to the new building, releasing space for a new mechanics bay, and it will also house the electronics shop and testing facilities for FoundOcean's Flooded Member Detection and remote grout density monitoring equipment.
Jim Bell, Managing Director of FoundOcean, says: "A bigger unit in Scotland is essential for us to grow and develop our business.  We'll now be able to build on our success with new equipment, more research and an expanded workforce."
This year FoundOcean announced it was building two new grout mixing systems, three new Flooded Member Detection systems, and has expanded its silo fleet by 400 tonnes, enabling the company to expand into new territories, including the Far East and the US.