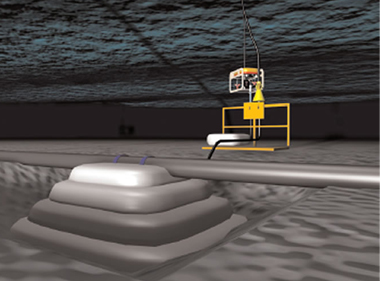 FoundOcean news - FoundOcean adds its support to Flowline Protection
Over Christmas and New Year 2008-9, FoundOcean was involved, with its client Subsea 7, in a project to provide fabric formworks to support new flowline protection units in a producing field in the Northern North Sea.
The 10-tonne flowline protection units (FPUs) are designed to prevent damage to flowlines where they emerge from the seabed, and are shaped to deflect fishing vessel trawlboards.
The project involved installing formworks under the base of the FPUs and inflating them with cement to provide a level base and transmit the loads to the seabed. The FPUs replace the protective cocoons put in when the flowlines were first installed, as part of a field upgrade programme. Five protection FPUs were installed in total; 60 tonnes of cement was mixed and pumped to these structures, which were installed by divers operating from a Subsea 7 diving support vessel.
The grouted base supports were preinstalled under the FPU bases and were designed to accommodate support heights up to 1m. They were filled with grout using a grout connector designed for diver use.
FoundOcean's role was to provide the grout bags and the cement, a small grout mixer with an integral grout pump, a 35-tonne silo and a hose reel.  The equipment, grout bags and cement were initially mobilised in Peterhead.  Additional cement was loaded in Lerwick and Bergen as the project continued. FoundOcean's crew leaders were Hugh Sellars and Derek Lauder, both offshore supervisors with combined experience of more than 40 years. Other personnel were mobilised in Peterhead, Lerwick, Stavanger and Bergen, at different phases of the operation.