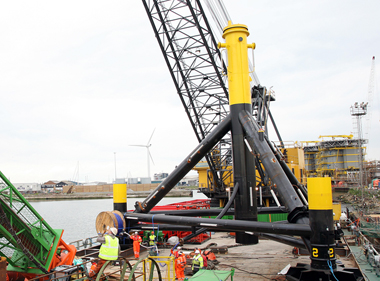 FoundOcean News - FoundOcean acknowledged for work in TGL Tidal Turbine installation
FoundOcean is presented with a plaque by Tidal Generation Limited to acknowledge its part in the installation of their 500kWe tidal turbine
FoundOcean has been presented with a plaque by Tidal Generation Limited for its part in the successful installation of their Tidal Turbine in the Fall of Warness (Orkney) in December 2009. The plaque is "to mark the occasion of the successful generation of power through [the] Deep Gen III 500kW Tidal Stream Turbine on the 21st September 2010."
The award letter that accompanied the plaque continues, "Many worked on difficult tasks in challenging conditions and the flexibility, dedication and 'can-do' attitude of everyone is celebrated in this memento." It gives special mention to the following FoundOcean personnel: Damien Murphy, William Thomas, Grant Hay, James Ramsey, Jim Peutherer and Grant Scott.
For more information about the project see www.foundocean.com/renewables/case-studies/fall-of-warness-orkney-tidal-turbine.
Read the acknowledgement letter here.